» Archive for the 'exhibitions' Category
13 November 2008
In Shenzhen's OCT Contemporary Art Terminal , Zhang Peili installed his third solo of 2008, again featuring remains, Mute. In this "scene" (a "new form of art" that Zhang Peili has been developing, he contrasts the real and the perceived, the static and the dynamic, over the abandoned reckage of manufacturing sewing tables and two parallel video projections of people working in the exact same space.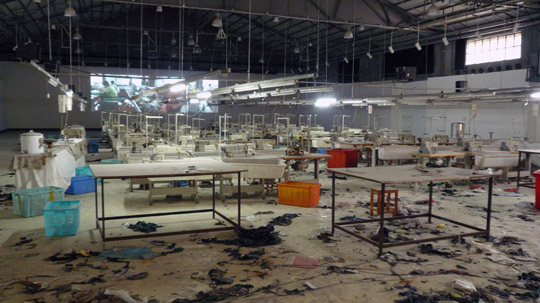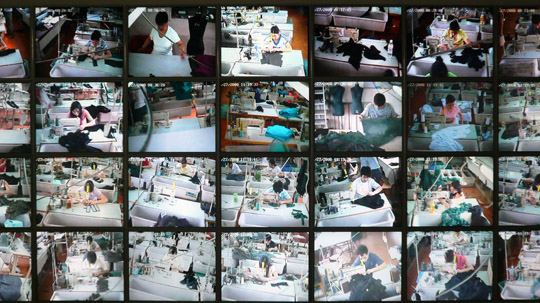 Concurrently, at Beijing's JoyArt Space, Ni Haifeng (artist site) employs similar on-site tailors who shredded, then reconstruct more than 10 tons of reclaimed fabric in Para Production. The result is a wall sculpture that reaches to the ceiling; remains are scattered across the space. The show is curated by Pauline Yao, see more photos of the show and its installation at her site.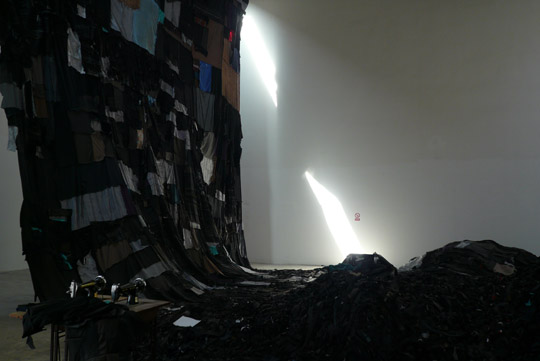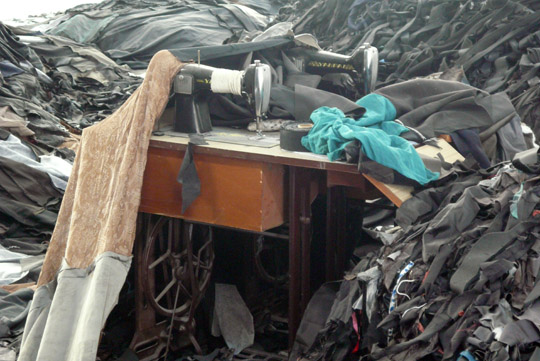 Although these two artists have different aims, the similarity of their means is outstanding. Both employ anonymous, live performers in the installation of, and integrally in the manufacture of their works. Both use the reconstructing, reorganizing and recontextualizing of materials, Ni Haifeng working with the fabric itself, and Zhang Peili with video clips that he garnered from a performance within the space. Both display their final product (fabric-sculpture, video montage) amidst the un-edited ruins of its production process.
For more "common threads" and variations on this theme, please reference Zheng Guogu's Factory exhibition, January 2008 at Beijing's Tang Contemporary.
More exhibition scenes below . . .
19 September 2008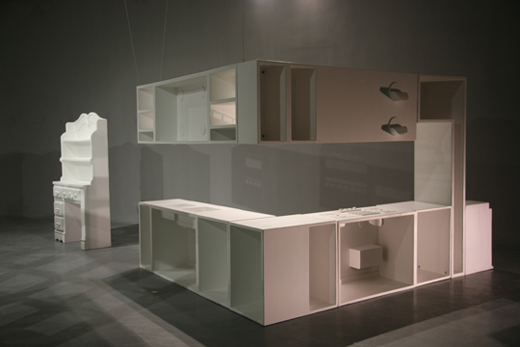 PLATFORM CHINA|站台空间
No. 319-1 East End Art (A), CaoChangDi Village, Chaoyang District|朝阳区草场地村319号艺术东区内
August 30-October 12
Chinese culture is steeped in delicate intimations sometimes so slight they can be easily missed. In "Subtlety," curator Karen Smith presents a thoughtful selection of nine Chinese artists—of divergent generations, media, and creative thought processes—who demonstrate this historical refinement. Wang Wei creates site-specific installations that transform their exhibition spaces. For this exhibition, he has enlarged a dozen pieces of the tiny furniture used in real estate mock-ups. These life-size wardrobes and kitchen sets have an odd effect on the space, causing double takes. The artificiality of these stunningly white wooden sculptures is enhanced by their epoxy-resin edges, which give them the appearance of having been pulled from plastic molds. Hu Xiaoyuan and Qiu Xiaofei, who are a couple, present independent works in adjacent rooms; each artist uses a combination of found objects and conventional artistic media to evoke nostalgia. For Permanent Address, 2008, Qiu has assembled from flea-market goods a complete domicile, its corridor entrance flanked by towers of discarded electronics, as well as rice cookers realistically re-created in painted wood. Hu's Summer Solstice, 2008, is more symbolist and organic: a battered, lift-top school desk is filled with cicada husks; everyday objects fashioned from coarse papier-mâché are displayed on small wooden shelves above it. From the open drawer of the desk, a roll of blank paper spills out onto the floor. The cicadas represent years of gestation in a harsh, survival-of-the-fittest educational system that the surrounding desk and school supplies intimate. In another room, Jia Aili, a young painter known for barren landscapes and ominous figures wearing gas masks, presents a video filmed out the window of a train. Using charcoal pencil, he has covered the nearly sixteen-foot-high adjacent wall with realistic cracks, flimsy nightgowns, and blank canvases. An otherworldly light casts shadows on this crowded wall of nonexistent, two-dimensional objects in the dim room, and a trademark demonic gas mask stares at viewers from its center.
read more critics' picks at artforum.com
4 September 2008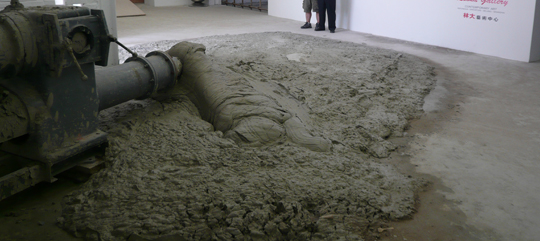 Sui Jianguo's piece above, Untitled, spills into the nave at Linda Gallery's inaugural exhibition in 798, "HANGING IN THE SKY, DRIFTING ON THE SURFACE." The Chinese title expresses a similar sentiment of this piece more nicely, with …bu neng kaojin (cannot approach). The exhibition was curated by Zhu Qi, and features some quite respectable artists, Zhan Wang 展望, Wang Jianwei 汪建伟, Gao Lei 高磊, Wang Luyan 王鲁炎, and others I feel particular repulsion to, aka (Zhang Peng 张鹏).
This latest Sui Jianguo installation truly fooled me; its haphazard placement in what could very possibly be a half-finished gallery almost makes it look like management had a little problem with concrete machine. One can't help but wonder, is this work masking a more cynical implication, or perhaps hinting at exhibition fatigue?

30 July 2008

伊比利亚当代艺术中心|IBERIA CENTRE FOR CONTEMPORARY ART
北京市朝阳区酒仙桥路4号798艺术区E06
2008.07.12–2008.08.15
"观念的笔记"把后现代画家的困扰当作前提:是一种没有总体的意图与法则可以依赖的虚空。画册的前言里面提出,目前的流行画派丰富而不断地被消耗掉,引起 "绘画概念极其单一,反映社会,或者通过反映内心状态来反映社会"。 此展览试图呈现当代艺术的自觉性。伊比利亚的小策展组收集的十六位画家能否使观众体验"主动试验性"的绘画线索呢?也许多少会一点吧。
宽广的现场集合了不同年代的代表人物, 包括著名的以及正在崛起的艺术家。策展组选择的研究话题很及时,也直接回应了那些爱批评画布艺术商业性的疑问。但对于普通观众来说,这组绘画作品展示在伊比利亚宽敞的空间不一定能够凸显出那些很特别的图像:试验是试验,但是只有理解基本的艺术史,才能感受得到此次展览的试验性的本质。说起展览气氛的学术倾向,这样说并没有贬义,伊比利亚确实在实行着其艺术研究和教育的功能。
"观念的笔记"前辈画家的代表中,有王音对绘画史本身的研究、王鲁炎的具有平面感而以图像为主的绘画、季大纯的重新分析科学真理和意图意义的绘画、还有尹齐的复杂奶油画,后者在试图改变视觉和意识上的规则。年轻的画家相对来说多一些,像龚剑的非审美的、飞溅着白色点点的画面、王光乐最新水磨石的尝试、李威的悬念性的电影语言、还有刘韡的电脑设计过的 "生产线" 大画面、王亚强的自学绘画手法,都达到了新鲜和挑战人眼球的效果;参与的人数众多,也使展览当中的想法充满丰富性,给每个人带来一次惊喜。
偶尔在现场也会碰到策展人所批评的"潮流绘画"的虚饰 (像符号的复制或者反映出影像文化),但是 "观念的笔记"的整体方向是往新鲜的艺术试验上走,一方面提供了有学术价值 的观赏,同时在年纪上相差二十多年的中国画家的绘画试验里,也找到了一 条线索。
文 / 安静 /Lee Ambrozy
此展览评论在artforum.com.cn发表 The review here is of the "Notes of Conception: a local narrative of Chinese contemporary painting" exhibition at 798's Iberia Center for Contemporary Art, on show till August 15, 2008. Haven't had time to translate it into English––sorry English-speaking readers!
8 July 2008

Li Zhanyang – 'Rent' – Rent Collection Yard
Galerie Urs Meile | 26 April – 24 August, 2008
Li Zhanyang's solo show is a worthy visit this season, he has modeled his collection of sculptures on an "instructional" collective artwork that was commissioned during the Cultural Revolution. Instead of featuring the landlords, rapists, suffering and poor of the original, substitutes high-profile characters from the world of Chinese contemporary art. His commentary, his drole means of representing these folk, and his skillful adaption of the original is intelligent and timely. Due to the historical and social nature of this work, it is best appreciated through accompanying texts, below are excerpts from the gallery press release and a translation of Ai Weiwei's response to the artist.
text: Nataline Colonnello (the following is extracted from the gallery press release)
'Rent' – Rent Collection Yard (2007) is the title of the largest and most complex sculptural installation Li Zhanyang (born 1969, Jilin Province, China) has ever created. Taking eighteen months of production after nearly a decade of conceptual incubation, Li Zhanyang's 'Rent' – Rent Collection Yard is a humorous and subjective look at the Chinese contemporary art scene. It is informed by the artist's personal experience. Characters, both local and international, are brought to life. The 34 life-size coloured fiberglass figures of this installation are modeled after the likeness of various people familiar to the artist – among them international celebrities as well as some only known in Chinese contemporary art circles. They include Chinese and Western artists, curators, collectors, gallery owners, gallery assistants, and art students. The gathered subjects were chosen according to their public or professional roles. Displayed on a real stage they were designed to showcase each figure in a striking a pose – dramatic or absurd, some of them with imbuing mordant satire. Following six conceptual themes (Paying Rent, Foot Washing, Raping, Oppressing, Dying a Martyr, and History Observed), the sculptures are spread throughout three exhibition spaces of Galerie Urs Meile in Beijing. The congregation seemingly gathered or juxtaposed is part of a broader and fabricated narrative revealing latent conflicts and power relations – the dirt underneath the high-gloss surface of the art world. The artist places his fiberglass alter ego amidst the other characters, representing himself by gazing intently into the darkness of the spectators. And among the spectators, Li Zhanyang places two exceptional figures in the front row: Joseph Beuys and Mao Zedong (in History Observed). Beuys, one of the most influential figures in the modern contemporary art scene, is expounding on the dynamic and chaotic interplay in front of them with a wild and passionate gesture beside the icon and father figure of revolutionary China.
The work is a contemporary transposition of the story of landlord Liu Wencai. During the revolutionary era, Liu Wencai was a victim of political muckraking and depicted as a brutal exploiter of the peasants.
24 June 2008

UNIVERSALSTUDIOS-BEIJING|BOERSLI GALLERY|U空间
No.A-8 Caochangdi,(P.O.box No.71 Dashanzi),Chao Yang District|北京市朝阳区草场地村甲八号 May 31–July 13
In this exhibition, the sometimes-dense compositions and concentrated colors of Liang Yuanwei's canvases nicely contrast with the cool, spacious gallery that houses them. On display are twelve large paintings and fourteen smaller renditions of the same patterns, all from the series "A Piece of Life" and completed in the last year and a half. Each painting is dominated by a pattern, thoughtfully chosen from among the artist's garments or selected from the many objects surrounding her-a sofa, curtains, swatches of cloth. Repeated evenly for the full length of the canvas, the flowers, spots, and, in one work, what look like palm trees are made by precise brushstrokes in thickly layered paint; they resemble classical Chinese painting's delicate and detailed gongbi strokes. The repetitive, meditative process required to unfurl these patterns limited Yuanwei to one to three inches of progress per day, and a single mistake or diffusion of concentration would destroy an entire canvas (and, subsequently, up to a month's work). Each painting thus serves as testament to both her desire to work more with oils and her incredible focus. Although inspired by motifs on two-dimensional fabrics, their shadows and light also give the impression of motion.
These works can easily be mistaken for a feminist/feminine pursuit, as in her earlier, well-received photography series "Don't Forget to Say You Love Me . . . (When You Fuck Me)," 2005. Those staged boudoir photos of women were a savvy comment on what it takes to break into the fine-art world. This most recent body of work confirms Yuanwei's observant nature and logical approach.
Originally published on ArtForum.com
13 June 2008

尤伦斯当代艺术中心

| ULLENS CENTER FOR CONTEMPORARY ART


北京朝阳区酒仙桥路

4

号院

798

艺术区


2008.04.12–2008.07.13
Perhaps this exhibition's title, "Stray Alchemists," subconsciously braces audiences for an underwhelming experience, as it suggests that the assemblage of international artists vagabond minor players in comparison to Huang Yongping, whose alchemical wizardry is on view in a retrospective in this venue's main hall. Here, tucked into a low network of halls on the perimeter of the UCCA, is a group offering of emerging artists touted as being among the vanguard of the international art world.
The exhibited works are rhetorically sewn together by common threads, among them an emphasis on process, the deliberate alteration of materials, and on examining everyday experience. Matt Bryans has erased the contents an enormous newspaper collage to create a primordial nebula of social information and display incredible feats of process. In the agitated installation Five Pointed Star, 2007, Amy Granat's scratched and worn 16-mm films loop endlessly within a claustrophobic room, the clicking sound of five vintage projectors amplified by the space constraints and the speakers that amplify the sound of the film running through the projectors. Also of note are Takeshi Murata's mesmerizing videos, "digital paintings" made in collaboration with Robert Beatty, who provided the sound tracks. These are installed in soundproof, utterly dark rooms that make for embryonic appreciation of his brand of digital-age psychedellica.
The conceptual practice of other works seemed simplistic and technically unimpressive, as in Li Tzay-Chuen's 100 spiders and 1 sticker, 2007, and Sterling Ruby's monumental junk art, which may evoke a response in Western contexts but has difficulty competing with the complex and contradictory urban construction site on display outside.
Perhaps dwarfed by this new context, or by the weighty nature of the works in the neighboring space, "Stray Alchemists" seems more trendy than relevant. Neither Day-Glo colors, nor hip-hop culture, nor vintage borrowing could redeem its sense of significance. It remains worth a visit for the inclusion of a few stimulating works, but fails as an introduction to the vanguard practice that is unfolding in the West.
originally published in Chinese on artforum.com.cn
21 April 2008

Joy Art: April 19-May 30
Curatorial text / Liu Ding
For many years Sui Jianguo has used his art practice to contemplate and expand upon sculptural concepts and forms. He also employs related media, video, installation and performance to reflect and discuss the changing patterns in our social lives and the forces and mechanisms that shape our social patterns. In Joy Art's second project "Revealing Traces" Sui Jianguo unfolds his research through the extracting and presentation of molding and the enlargement process of a small clay model; he also examines the social phenomenon that is the transformation of individual will into the public will.
Generally, in the sculpture creation process, the sculptor first makes a complete small-scale model, workers then enlarge it to the artist's specified dimensions, and lastly it is molded into an artwork in a different material. In the "Revealed Fragments" project, Sui Jianguo personally created small-scale clay models of three different forms, he then intentionally covered their surfaces with his fingerprints. According to the general procedures for modeling and enlargement of these small sculptural models, Sui used workers to first mold his clay models into silica gel molds, then from these molds they were molded into plaster; following this, a laser mapped out the appearance of the plaster model and marked coordinate locations on a grid. This "virtual grid" of the plaster model was then enlarged more than 10 times according to an actual and comprehensive positioning system; these circular coordinates were blown up according to a "circular enlargement" process. An iron frame and wooden supports were constructed according to the requirements dictated by the new dimensions; then wooden rings were built around the wooden supports. Accordingly, the sculpture's clay frame was built upon these wooden rings, thus completing the basic mold for the enlarged model. The workers then completed the model according to the now enlarged circular coordinates, accurately representing the handprints of the artist's original model. Ultimately, the artist's clay sculpture is perfectly enlarged ten times its original size; it becomes an enormous sculpture with monumental quality.
8 April 2008

UNIVERSALSTUDIOS-BEIJING|BOERSLI GALLERY|U空间
No.A-8 Caochangdi,(P.O.box No.71 Dashanzi),Chao Yang District|March 8–April 6
It may be the relative lack of installation work in China that makes Qiu Xiaofei's current exhibition seem especially satisfying. Or perhaps one can read Xiaofei's work as a clever twist on the medium of painting, undoubtedly the most popular one among contemporary Chinese artists. In "House of Recollected Fragments," he remakes objects as his own by painting them, as in his earlier work, but this time viewers are dwarfed by his vision. Xiaofei's third exhibition in as many years is essentially an extension of previous themes—objects of nostalgia, childhood memories, and dreams are transformed into thickly painted parodies of themselves––but it has a new maturity and importance. His choice of subjects has also progressed slightly, from the representation of static, dispassionate objects to imaginary scenes charged with the artist's emotion and sentiments.
The exhibition is dominated by a flat, brilliant white "ice rink" that has been shredded into bloodstained tracks––cut by the sharp blades of the skates that are pinned to the wall. Arranged around this circular rink are smaller, loosely related works. In one, a meat grinder spills piles of grim, raw product on a table, the realization of a recurring childhood dream occasioned by preparations for holiday cooking. In another, a half-burned mosquito coil serves as a symbolic reminder of waiting home alone while both parents were at work; furthering this theme, on an adjacent wall hang two blown-up photos of the artist as a child, laughing. These images are slightly different, reflecting a split personality that many children of the "one-child policy" dealt with. Two enormous stacks of wooden blocks painted with life-size geometric windowpanes, a clock, and Russian-style onion domes dominate the gallery entryway.
The only work that seems out of sync, at least stylistically, is Night at the Museum, 2008, which is perhaps a subversive fantasy of the artist's adult life: In a startling white environment hang the variety of molded plaster frames found in a traditional museums, each sloshed with black paint. This is the "work" of a dripping, headless, and hulking figure made of the same plaster, an alter ego who has defaced the floor and walls in what can be seen as a commentary on the traditional art machine. The exhibition hints at new, more ambitious directions for this young artist.
8 March 2008

The Other Side of Totality
Joyart: Feb 2-Mar 26
Guns, tanks, and military paraphernalia have been Wang Luyan's recent obsession and in "The Other Side of Totality" he doesn't stray from war-machine themes. His conceptual ideas come across more consummate, and more pure than his recent installation work; the result is playful and silly at first glance, but the experience can evolve into something socio-political, even insubordinate––the exhibition's success is this depth achieved through such subtle manipulation of space and visual play.
Wang Ludan is a heavyweight artist, visitors look precarious under "heavyweight" tank tracks that he has painted to the ceiling, and almost Lilliputian bounding up and down the concrete mound that seems ballooning up from the center of the room.
In the main hall, a cube, essentially, is ten feet high with a slice of natural light that comes in through a ceiling window. The environment is thorough, green tracks cover all and the swelling concrete mound is flawless. His geometrically precise rendering is ominous in size but cartoonish in style.
A small, unceremonious room to the side is essentially the opposite of the main room, the angular and concave shaping of the concrete addition, and the confined feeling almost feel like a narrow grave, Sharpie marker "Xs" mark the wall at eye level. In contrast to the outer room, is this haphazard feeling intentional? This room has the makings of a small scale Michael Heizer installation in the way it is bathed in negative space, but its execution is too slapdash to compare.
The other side of totality is a contradiction––the implausibility of the mound existing inside a tank, or the surrealistic feeling of being encompassed by the treads. As for the socio-political meaning, the implications you endow the tank with are yours alone.
originally published on artforum.com