» Archive for the 'art' Category
30 November 2008
In a hidden corner in 798, lies a surprise awaiting fans of minimalist fashion, playful irony and small, independent fashion labels …

I was baffled on first site, and walked the full circumference of the "white cube" before realizing…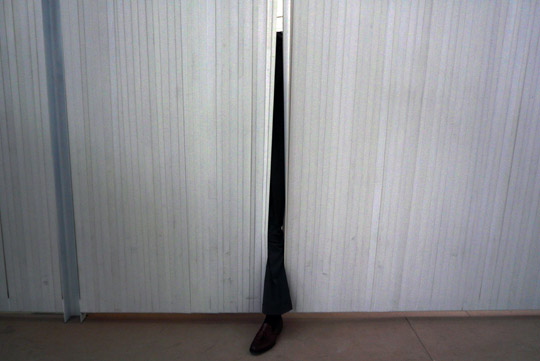 Inside the clever white elastic "cube" are six more partitions, all filled with Zhang Da's designs for his 2008 line. These simple designs are flattering on many body types, and a refreshingly original take on androgny; he takes the non-differentiation of sexes to a new level–up can be down, inside can be out. It can all be comfortably stylish (and affordable, the few price tags spotted were below 500 RMB).
Zhang Da has pioneered the response to the "T" Shirt: the O Shirt. You can see the O Shirt and other designs at this temporary store. (Keeping you in suspense…) Information and photos below >>>>>>>>>>>>>>>>>>>>>>>>>>>>>>>>>>>>>> (more…)
13 November 2008
In Shenzhen's OCT Contemporary Art Terminal , Zhang Peili installed his third solo of 2008, again featuring remains, Mute. In this "scene" (a "new form of art" that Zhang Peili has been developing, he contrasts the real and the perceived, the static and the dynamic, over the abandoned reckage of manufacturing sewing tables and two parallel video projections of people working in the exact same space.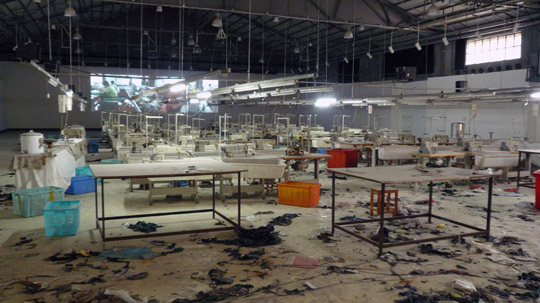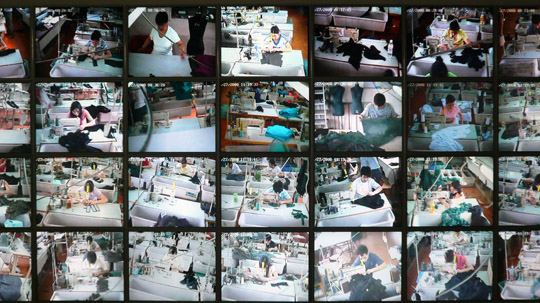 Concurrently, at Beijing's JoyArt Space, Ni Haifeng (artist site) employs similar on-site tailors who shredded, then reconstruct more than 10 tons of reclaimed fabric in Para Production. The result is a wall sculpture that reaches to the ceiling; remains are scattered across the space. The show is curated by Pauline Yao, see more photos of the show and its installation at her site.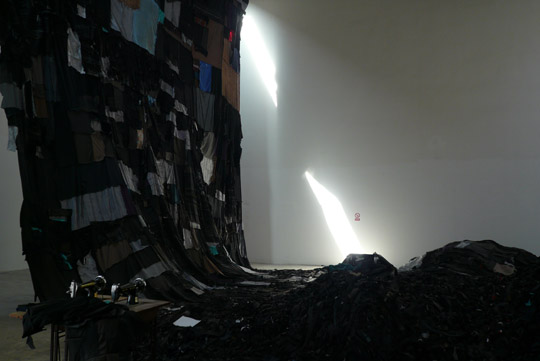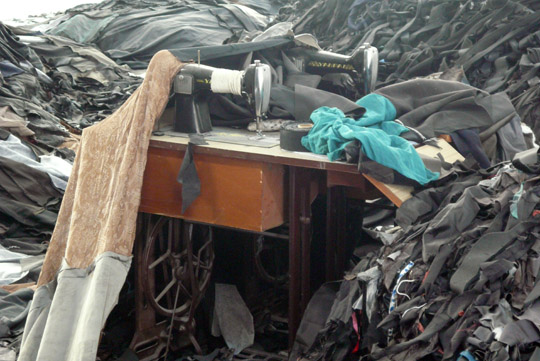 Although these two artists have different aims, the similarity of their means is outstanding. Both employ anonymous, live performers in the installation of, and integrally in the manufacture of their works. Both use the reconstructing, reorganizing and recontextualizing of materials, Ni Haifeng working with the fabric itself, and Zhang Peili with video clips that he garnered from a performance within the space. Both display their final product (fabric-sculpture, video montage) amidst the un-edited ruins of its production process.
For more "common threads" and variations on this theme, please reference Zheng Guogu's Factory exhibition, January 2008 at Beijing's Tang Contemporary.
More exhibition scenes below . . .
1 October 2008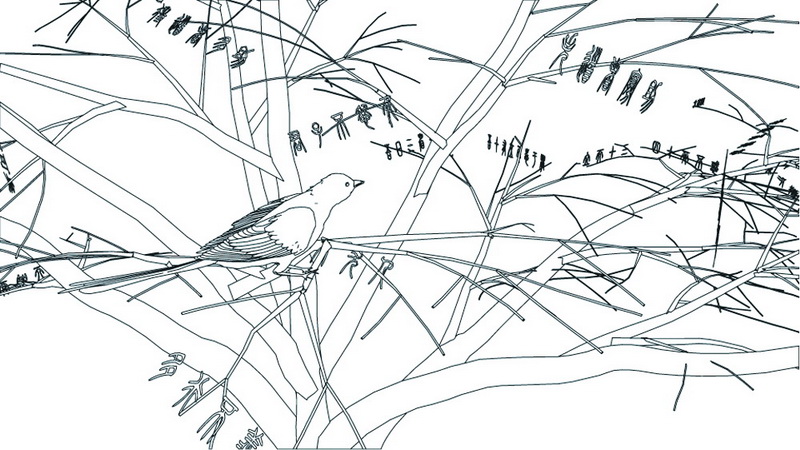 陈春
Chen Chun
《鸟之死》The Bird's Death
动画 Animation
7 ′ 30 ″ 2008
Ten students from the New Media Art Department of the China Art Academy (Zhejiang) display their work in 798's T-Space. These students were vying for the "Pierre Huber Creation Prize"scholarship, a prize furthering creativity in the fine arts that was established last year in 2007. The winner, Li Ming, took the prize with a video of a crude backhoe combing a young woman's tangled hair. She sits in the rubble of a destroyed home.
The show is an interesting focus on some of China's young talent, and it is nice to see perspectives from outside of Beijing. Still, I was surprised to see how many of these works were extensions of common tropes in Chinese art: photo series (featuring migrant laborers, people in their underwear) and the "24 video documenting absolute nothing while I sit in my dirty room for days at a time". I have seen several variations on this theme on display in Beijing over the last 6 months alone.
I was particularly moved by Li Fuchun's (a runner up) helium balloons lifting a board on which was scattered the creamated remains of a human. That work touched a nerve and tapped into a sense of the ethereal, almost reaching a state of expression that can't quite be put into words, something that I consider a higher form of contemporary art. Unfortunately, it was stuck in a corner of the stairway by the time I encountered it. Wang Liang sat at his loom weaving a black and white pattern out of a random generated code of 1 and 0's, which I also enjoyed, but the process and result seemed too similar to Lu Qing's long hand-painted silk for me to feel comfortable.
Even though the majority of the works had a witty sense of academia hovering about them, all were wonderfully executed. Their installation also put many local galleries to shame. T Space has done a great job at working for furthering the definition of art. This student exhibition was also a great step for what is trying to be a "non-profit" space in Beijing. Congrats to to Mr. Huber, who has solidified his name as legend in Chinese contemporary arts. The next best thing to opening an enormous space named after you, is to commemorate yourself with a prize.
19 September 2008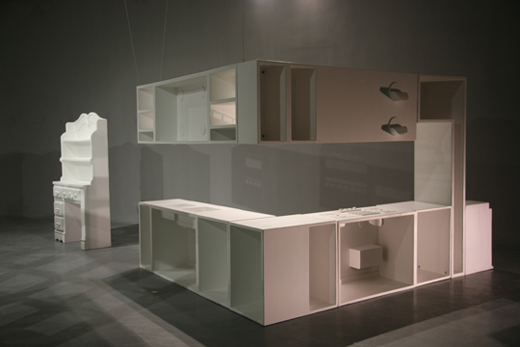 PLATFORM CHINA|站台空间
No. 319-1 East End Art (A), CaoChangDi Village, Chaoyang District|朝阳区草场地村319号艺术东区内
August 30-October 12
Chinese culture is steeped in delicate intimations sometimes so slight they can be easily missed. In "Subtlety," curator Karen Smith presents a thoughtful selection of nine Chinese artists—of divergent generations, media, and creative thought processes—who demonstrate this historical refinement. Wang Wei creates site-specific installations that transform their exhibition spaces. For this exhibition, he has enlarged a dozen pieces of the tiny furniture used in real estate mock-ups. These life-size wardrobes and kitchen sets have an odd effect on the space, causing double takes. The artificiality of these stunningly white wooden sculptures is enhanced by their epoxy-resin edges, which give them the appearance of having been pulled from plastic molds. Hu Xiaoyuan and Qiu Xiaofei, who are a couple, present independent works in adjacent rooms; each artist uses a combination of found objects and conventional artistic media to evoke nostalgia. For Permanent Address, 2008, Qiu has assembled from flea-market goods a complete domicile, its corridor entrance flanked by towers of discarded electronics, as well as rice cookers realistically re-created in painted wood. Hu's Summer Solstice, 2008, is more symbolist and organic: a battered, lift-top school desk is filled with cicada husks; everyday objects fashioned from coarse papier-mâché are displayed on small wooden shelves above it. From the open drawer of the desk, a roll of blank paper spills out onto the floor. The cicadas represent years of gestation in a harsh, survival-of-the-fittest educational system that the surrounding desk and school supplies intimate. In another room, Jia Aili, a young painter known for barren landscapes and ominous figures wearing gas masks, presents a video filmed out the window of a train. Using charcoal pencil, he has covered the nearly sixteen-foot-high adjacent wall with realistic cracks, flimsy nightgowns, and blank canvases. An otherworldly light casts shadows on this crowded wall of nonexistent, two-dimensional objects in the dim room, and a trademark demonic gas mask stares at viewers from its center.
read more critics' picks at artforum.com
15 September 2008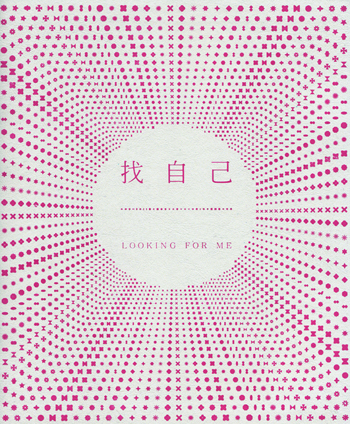 Some of us look forever, others never seek––perhaps they're already found "ME." New September 2008 publication is a compilation of short texts and artwork images documenting China's new generation of "Post 70s" artists. Included within are 30 artists, each artist includes a short introduction, three full pages of color images, and up-to-date artist resumes, there is even a photograph of each artist, in the old school, i.d. photo style.
These artists included are among the most outstanding of their generation, they represent Mainland China's up-and-coming talent in the visual arts. Although often called the "Post 70s" generation, the artists here are mostly born after 1975. The book is a compliment to the exhibition of the same name, curated by Fang Fang (art director of Star Gallery and 2006 exhibition "Naughty Kids"), but is meant to stand on its own, and become a resource tool for those interested in this younger generation of artists, a browsing book.
If you're like everyone else I know, you're thinking: What does the name mean?
After spending a summer on this book, researching these artists, writing texts, translating and pondering the very same question I can only say: It means what ever you want it to. Whatever looking for you might entail. May you find it within!
Artists: Ouyang Chun / Li Jikai / Wei Jia / Qin Qi / Huang Yuxing / Xiong Yu / Wen Ling / Wang Guangle / Liu Ding / Li Hui / Qiu Jiongjiong / Song Kun / Wang Yaqiang / Liang Yuanwei / Cao Fei / Wang Yifan / Li Chaoxiong / Chen Ke / Xu Maomao / Jia Aili / Gao Yu / Li Qing / Qiu Xin / Wen Chuan / Yan Cong / Ha Migua / Chen Fei / Jin Nv / unmask
Book design: Liu Zhizhi MEWE
Authors: Lee Ambrozy / Jing Xiaomeng / Gong Jian / Huang Shan / Helen Li / Pauline J Yao / Chang Chang
4 September 2008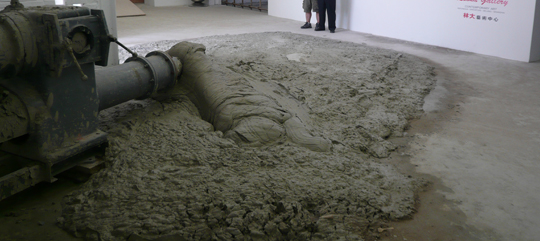 Sui Jianguo's piece above, Untitled, spills into the nave at Linda Gallery's inaugural exhibition in 798, "HANGING IN THE SKY, DRIFTING ON THE SURFACE." The Chinese title expresses a similar sentiment of this piece more nicely, with …bu neng kaojin (cannot approach). The exhibition was curated by Zhu Qi, and features some quite respectable artists, Zhan Wang 展望, Wang Jianwei 汪建伟, Gao Lei 高磊, Wang Luyan 王鲁炎, and others I feel particular repulsion to, aka (Zhang Peng 张鹏).
This latest Sui Jianguo installation truly fooled me; its haphazard placement in what could very possibly be a half-finished gallery almost makes it look like management had a little problem with concrete machine. One can't help but wonder, is this work masking a more cynical implication, or perhaps hinting at exhibition fatigue?

23 July 2008

International Museum of Women Announces Call for Submissions
Submit your work to the Women, Power and Politics global online exhibition
Submit your original artwork, essays, film shorts, poetry, photography and cartoons to be considered for the Women, Power and Politics online exhibition at I.M.O.W. Until December 31, 2008, Women, Power and Politics focuses on a provocative new topic each month and uses community-submitted work to start a dialogue on the issues. Work can be submitted directly online in Arabic, English, French and Spanish. Chinese language assistance with the submissions process will be available until September — email with any questions. To learn more about the submissions topics and how to submit your work, visit www.imow.org/submissions. To start exploring Women, Power and Politics, go to www.imow.org/wpp.
Every woman counts! Tell them your story. I.M.O.W. is very interested in hearing stories from China, submissions are encouraged! Please forward to the women in your life!
19 July 2008

When we sleep deeply, everything becomes history.
—Sun Xun
Coal Spell, inspired by this old five Yuan RMB note, is an account of the rise and fall of Fuxin, an old industrial coal city located in northeastern China. As a result of the experiences and nostalgia of his upbringing, the artist began to question both History and Power:
In a mysterious dark city, yellow sand storms wreak havoc. Several huge smokestacks located in the middle of the city pierce the sky, emitting black fumes, which blanket the sun. The sound of doctrine rings out daily in order to banish various curiosities about this world. The city is a tremendous prison where history is boxed up like a monster – a brutal, fierce monster. One particular day, people were forcing the screaming Soviet Union excavator to clumsily open the skin of the land, gradually closing the heart of the city…even the changes of history can be closely watched.
People's money, pattern is just the illustration…
WATCH "Coal Spell" on art and artist.com
Platform China Contemporary Art Institute presented Sun Xun's new work, Coal Spell, in their 798 Project Space. During a two month period, Sun Xun created a hand drawn, site-specific animation film. The resulting exhibition featured the new film "Coal Spell" together with Sun's installation made specifically for the film. Coal Spell is Sun Xun's second site-specific animation project. His first site-specific work entitled "Lie" was part of the Yellow Box Exhibition at the 2006 Shanghai Biennale. Sun's third project will take place at the Hammer Museum in Los Angeles from June to July, 2008.
17 July 2008
The following lament for the 798 arts district is featured on artforum.com.cn under angle.

The games are approaching, and China's most infamous arts district is being scrubbed and shined to make way for tourist traffic. The reality of the immense changes that have occurred here over the past few years now lies below a new layer of concrete and the Italian leather sandals of al fresco diners. This maturation has been rapid and thorough, but for all the media gushing over 798, few have taken time to ponder the effects of her changes, or in what way they have been ministered by her new nanny, the "Beijing 798 Art District Office of Construction Management."
The "798 Management" office is an office representing the interests of the Beijing Municipal and Chaoyang District governments and the Seven Stars Group. Seven Stars is not a constellation or group of celestial bodies, it is the electronics conglomerate heir to the original factories, and the property management group that now rents to the galleries in 798, comprised of factories 700, 706, 718, 797, 798, and 707. Six factories. Where is the seventh? Maybe the last star is you, or harmony, or maybe it stands for "art zone" with Chinese characteristics.
Established in 2001, in part to deal with factories vacated since being rendered irrelevant by changing electronics technology, Seven Stars was happy to rent to people such as Sui Jianguo the sculptor, Hong Huang the publisher, Liu Suola the composer and many others who began moving in around 2001. Then, the entire area seemed distant and dilapidated, although its former glory was quietly echoed in East German designed Bauhaus style factories. In the mid-1950s this area was the highly celebrated "Factory 718" complex, the national standard in integrated and efficient production, and a model for similar factory complexes across the nation. It is said that Factory 718 was a household name, reaching heights of production amidst swells of socialist ideological hype that encouraged the embrace of industry.
Reverberating with its past fame, 718 has been reincarnated as 798, and sits atop tourist "top ten" lists. One of the government's "development zones" of the new cultural variety, 798 is prided as a model of official tolerance for artistic expression, as evidence of the booming "cultural industries" and touted as a "healthy" tourist location spotlighting "contemporary culture" where visitors can snap photos of themselves amidst steaming, peeling pipes or shiny fiberglass sculptures, embodying the contrast of a proud industrial heritage with a booming contemporary art scene. 798 has emerged as a media-friendly archetype of the contradictions that define modernizing China. Or does it define something else? (more…)