» Archive for the 'books' Category
15 September 2008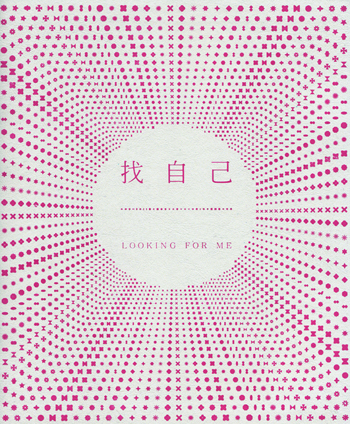 Some of us look forever, others never seek––perhaps they're already found "ME." New September 2008 publication is a compilation of short texts and artwork images documenting China's new generation of "Post 70s" artists. Included within are 30 artists, each artist includes a short introduction, three full pages of color images, and up-to-date artist resumes, there is even a photograph of each artist, in the old school, i.d. photo style.
These artists included are among the most outstanding of their generation, they represent Mainland China's up-and-coming talent in the visual arts. Although often called the "Post 70s" generation, the artists here are mostly born after 1975. The book is a compliment to the exhibition of the same name, curated by Fang Fang (art director of Star Gallery and 2006 exhibition "Naughty Kids"), but is meant to stand on its own, and become a resource tool for those interested in this younger generation of artists, a browsing book.
If you're like everyone else I know, you're thinking: What does the name mean?
After spending a summer on this book, researching these artists, writing texts, translating and pondering the very same question I can only say: It means what ever you want it to. Whatever looking for you might entail. May you find it within!
Artists: Ouyang Chun / Li Jikai / Wei Jia / Qin Qi / Huang Yuxing / Xiong Yu / Wen Ling / Wang Guangle / Liu Ding / Li Hui / Qiu Jiongjiong / Song Kun / Wang Yaqiang / Liang Yuanwei / Cao Fei / Wang Yifan / Li Chaoxiong / Chen Ke / Xu Maomao / Jia Aili / Gao Yu / Li Qing / Qiu Xin / Wen Chuan / Yan Cong / Ha Migua / Chen Fei / Jin Nv / unmask
Book design: Liu Zhizhi MEWE
Authors: Lee Ambrozy / Jing Xiaomeng / Gong Jian / Huang Shan / Helen Li / Pauline J Yao / Chang Chang
8 June 2008


"Socialism is Great" is a coming-of-age tale to be sure, but also a good example of memoir writing from an exceptional person living through some extraordinary times. "Socialism is Great" tells of things great and small: a girl becoming a woman and China shedding its socialist shell. It opens doors on a frugal family and its persistence in life, and the gates of the state-owned factory class as it plods to extinction. Along the way are lovable and despicable characters, all drawn to–or repelled by–our heroine Lijia as she careens through her own mind, trying as she must to keep her ambitions and lust contained behind "the strangest pair [of glasses she] could find in town."
"Socialism is Great" is a fast read, is passionate and hopeful. Happily, unlike many other memoirs from China it doesn't end with an escape abroad. In this sense, it captures the spirit of the 80s, as the heroine's forward momentum brings readers to new depths and acts of bravery, she brings to life a whole new side of China, all without wallowing in self-pity. As she matures, she comes into mature experiences that make this book inappropriate for young audiences, but which definitely left me surprised at the depth of emotion of factory workers and "simple" laborers all.
All in all, this is a new voice to enrich the canon of memoirs from China, it marks the advancement away from the reminiscing over the cultural revolution, and represents one among China's newest generation of international, accomplished writers.
Book Talk: "Socialism Is Great!" by Zhang LijiaWed June 18, 19:30-21:00
Venue: CCC Learning Centre, Chinese Culture Club, Anjialou, No.29, Liangmaqiao Road, Chaoyang District.
Price: RMB 20 (symbolic charge for drinks and snack) (more…)
8 May 2008

3030 New Graphic Design in China is a panoramic view of China's new generation of graphic designers packed in a little book. Representatives from around the nation are present, and make subtle claims on a "Chinese aesthetic" with new designs notions ranging from notions of character typography, "play" on characters, experimenting with traditional bindings, and the reincarnation of nostalgic papers, textures, and other motifs from the 80s (in the case of this young generation).On the whole, the group collected here shows an inclination for white space and blocky abstract forms; perhaps their manipulation of the English alphabet and words reveals a willingness to experiment with shapes and form that push the medium further than a native speaker might dare.Perhaps the books greatest selling point: the inspiration of seeing this highly productive group of designers experimenting with styles in a nation where the mere notion of graphic design and advertising are so new. Many art academies boast graphic design programs that are less than a decade old, and represented here is a group of the first graduates and the pioneers of the field on the mainland.With a rich vocabulary of historical-cultural references, the designers featured in 3030 New Graphic Design in China are at no loss to use the typical "Chinoiserie" that once distinguished works from mainland China. Happily, despite some tropism, many of these China born-bred-educated graphic designers are showing great promise for achieving distinctly unique, yet international styles. This book is a decent reflection of them, although by no means a reflection of what you will see streetside. With any hope, that will change in the coming years.For more images and an interview with the editor, visit PingMag
30 April 2008

Naughty Kids collects the voices of a rising new generation of Chinese artists in one bulky, unique concept album. Don't mistake this younger group of artists as deviants; they have already distinguished themselves as the most promising creative force for China's step into the global arena. But in the midst of China's ever-changing contemporary art scene these "kids" are adapting some curious themes: see their characteristic cartoon elements manifest in various forms, from enormous, almost 3-D canvases, to pithy notebook doodles. Naughty Kids looks into each artist's personal nature with pop culture oriented surveys, revealing how much closer this "Post '70s," or "consumer generation" of artists is to Western consciousness then we had previously guessed. The design is the creation of Naughty Kid artists' contemporary, classmate and award-winning designer, Liu Zhizhi. Its edgy concept design is teasing – definitely rascally – and promises to make each copy a smudgy, unique original.
I know, this book is old, but it is still a classic in its time, it pinpoints Post 70s/80s artists before they were even a concept. Looking forward to the next such title from curator Fang Fang: "Looking for Me"
8 February 2008
Editors Uta GROSENICK and Caspar SCHUBBE
MERRELL publisher,
Available at Timezone 8, 420 RMB
Wherever art works are exchanging hands for millions of dollars, the publishing industry will follow––foolproof publishing logic. Thus China Art Book was born, and is the broadest survey of Chinese artists to date, including 80 attention-grabbing contemporary artists. Although introductions are brief, they are included in German, English, and Chinese… suggesting that this is not reading for merely potential collectors, but hobbyists, and perhaps artists themselves, in these ways it sets a standard in publishing on the field. The book is filled with colour images for each artist and soft bound, it was edited by acclaimed Art Now editor Uta Grosenick and her Beijing counterpart Carol Lu (Lu Yinghua), the team recruited local curators to vote on artists included and contribute to introductory texts––a democratic process¬ no doubt. Why, then, did the book inspire such a confrontational and suspicious crowd at its launch last month at its Beijing launch? Despite the many reasons, Uta hinted at a second edition . . .
originally published in Urbane, February 2008